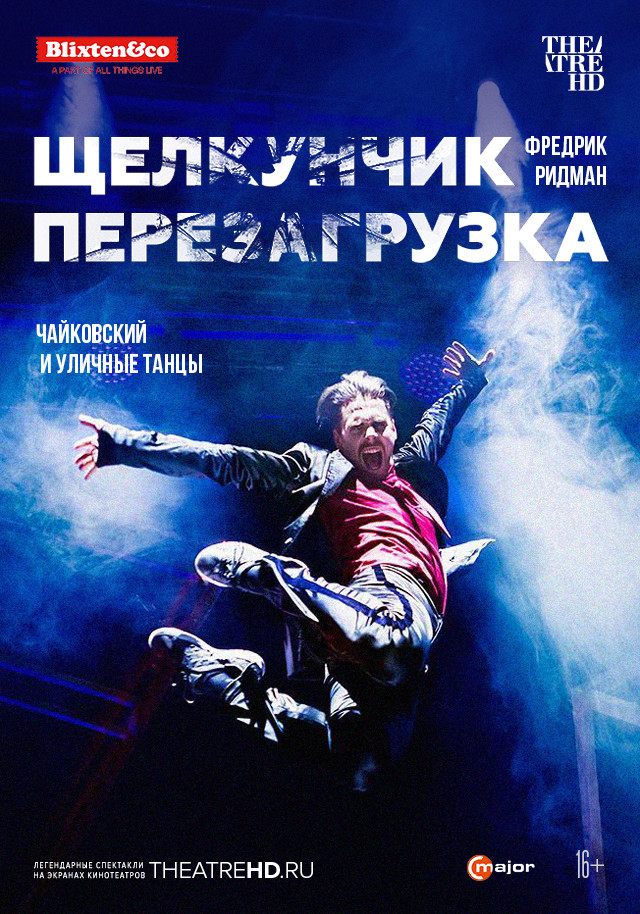 The Nutcracker Reloaded
Щелкунчик: Перезагрузка
A family show in 2 acts, where imagination takes you on a journey. Energetic, fun, involving and always surprising. Nutcracker like you never seen it before.
Actors
Crew
Act 1

In the beginning we learn from a storyteller that she cured a man with the nutcracker syndrome….with a nut. She tells a story about a homeless girl who wants nothing else than to meet her parents again, Parents living in a another country, begging the streets. The little girl is fooled to go with with a man to meet her parents. The man deals with Human Trafficking, and will sell her kidney to a man with the nutcracker syndrome for a transplant.
Clara, the homeless girl, is living in a garbage dump. She and other orphants living there are miserable trying to avoid rats as they are looking for food. Claras biggest dream is to eat Candy. Her parents are away begging the streets in a rich country.
I the same country Herr Drosselmayer is someone who makes money out of selling human organs, and now has a new client with the nutcracker syndrome, so he needs to find a kidney from a young person.


On the way home from the meeting to give Herr Drosselmayer the job to find a kidney, the ill man, who is gruesomely rich, and his son is passing by the beggars. Since it is Christmas the boy gives his toy, A nutcracker, to the beggars. His dad immediately, tells him off, and tries to take it back from the beggars. The nutcracker breaks in two peices in the turmoil, and the man gives the legs back to his son and wanders off.


Herr Drosselmayer who see this is curios why the beggars shows such an interest in a toy. He approaches them and see the family photo. The nutcracker is for their daughter Clara. He offers to deliver the toy to their daughter. Of course he has other plans.
Drosselmayer finds Clara at the garbage dump and give her the present. He also delivers other presents for the other kids living there to make him seem like a good person. Clara repair the legs of the nutcracker with things from the dump and the orphants have a good time playing with their toys. Clara is suspicious when Drosselmayer explains that he can take her to her parents. Clara is tempted but she cannot be convinced. since she finds Drosselmayer Creepy for some reason. It is dusk and now the sun is coming up and all of a sudden Drosselmayer suggest that they should sleep on it, and decide when they wake up.


Clara goes to sleep (by inhaling lubricant) and starts to dream. Everything gets big and the rats are coming out to bite her. Her Nutcracker also gets big and he is a real handsome BalletPrince (but the two legs are controlled by a second person*), also Dart Vader and Mario bros and a LEGOfigure are dancing and fighting the Locking(hiphop)Rats. The Nutcracker eventually wins over the RatKing, but that is only with the help of Clara.


After that, The nutcracker performs a magical Ballet routine, and Clara joins him in a pas de deux. Only that Clara lifts and throw him around. The Nutcracker gets a little hurt and his hair gets messy, so he feels sorry for himself and needs to fix his hairdoing. He is a wimp and a male bimbo. Clara is a much stronger character.


At dawn Clara wakes up, and finds Drosselmayer sleeping upside down (!?). She wakes him up, and tells him she is ready to go since the dream has given her a good sign . The nutcracker is still a Balletprince in natural size. They take off and the wind makes hundreds of white plastic bags from the dump fly around in the air (making it look like a snowfall) , her orphan friends says goodbye and tries to warn Clara, but the snowstorm is getting louder so she can´t hear them.
Act 2


They have now entered the western world, as they go looking for Claras parents. and to Clara who has never seen anything like this, this is Candy Land.
The three of them travel from country to country to find her parents. They meet English Licorice, Two gents in striped costumes with exceptionally well manners (Popping),
American marshmallows, A guy who just gets bigger and bigger, white fluffy stuff bursting out from under his costume (breakdancing).
In Russia, she sees Kreml and meet ortodox preists with krucifixes
Drosselmeyer gets more and more impatient, and he looses power
and gets weaker as he encounters krucifix, garlic, and silver. We understand that he is actually a vampire or Dracula!
Finally they find Claras parents, and they dance and rejoice, to the waltz of flowers. Now Drosselmayer can put his plan to work and calls for the ill man. He shows up together with his son.
While the Adults are talking to eachother the boy see that Clara has a Nutcracker with broken legs. The boy bring out his part of the nutcracker and the try to put the legs back, but of course they are too small. Clara take the legs and just by touching them, they grow to natural size. Immediately the boy and the girl fall in love. Nutcracker is trying too tell them to put his legs back but they are completly lost to their own. The rich man makes Claras parents go away to get food and Drosselmayer is ready to put his teeth in Clara.
He grabs her and his teeth are growing, the boy grabs one of the legs and throws it across the room and stabs Drosselmayer right through the heart…and Dracula is dead.
Now there is time to put the legs back on the nutcracker, and when they do he turns in to a real ballet dancer. The storyteller enters the story and we understand that she is the sugarplum fairy. She is deeply in love with the balletdancer, and loves his body, during the dance of the sugarplum fairy. Now she brings out the nut, and put it between the nutcrackers butts. He breaks it by turning his feet out. There is a big sound as it breaks, and the ill man get startled and falls over. When Clara and the boy helps him up the man is no longer in pain. He is cured. Everybody is happy. Final.
Can be interesting for you